If you would have liked a heads-up on when the U.S. stock market might have made its significant highs and lows in the first-quarter of 2020–including a drop that erased all of the gains made since 2017 and entered bear-market territory–look no further than financial astrology.
Indeed, I have been writing and doing lectures about the following dates for two years, since I published my book, "Trading In Sync With Commodities—Introducing Astrology To Your Financial Toolbox," in April 2018. They also were covered on a more immediate and ongoing basis in my newsletter, "Red Letter Trading Days."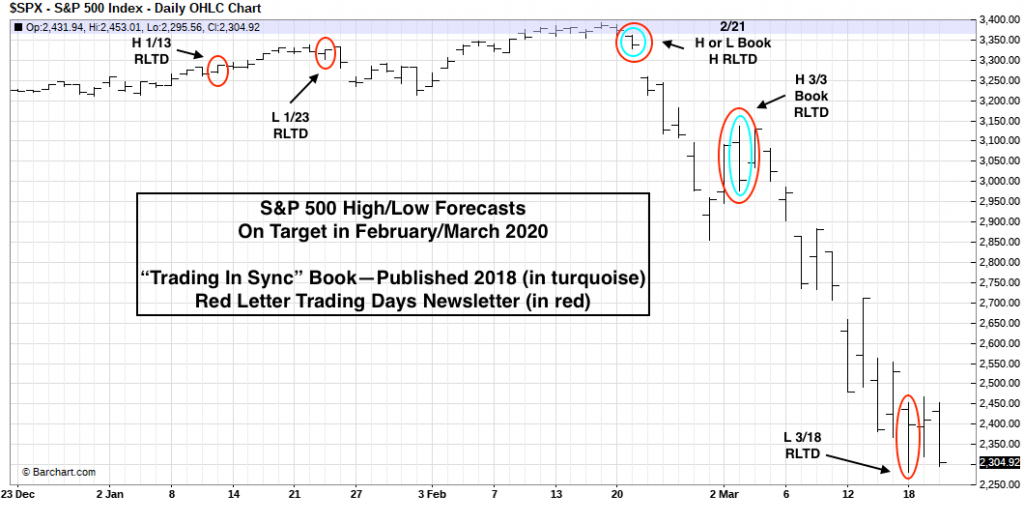 Friday, February 21, 2020—(S&P 500 all-time high on Feb. 19, 2020 at 3393.52)
In my book, I knew this would be a significant day because the Sun, Moon, Mercury and Venus were active both in the sky and with those same planets in the natal horoscope of the index. But, more than two years away by the time my final book manuscript was done, I wasn't sure if it would be a high or low. With two more years of watching how the Standard & Poor's 500 index behaved to planetary transits (and two more years of a bull market), I settled on a high and published that forecast in my special report, "2020 Outlook—Standard & Poor's 500," on January 17, 2020.
Although this forecast missed the absolute high by two days, the Feb. 21 high was just 33 points (or 1%) below the all-time high. One trading day later, on Monday, Feb. 24, the S&P 500 gapped 69 points lower and has yet to fill that gap. For an in-depth examination of the astrological connections at the all-time high, please see my blog post, "Coronavirus Hits Stock Market at Critical Turning Point."
Tuesday, March 3, 2020—(S&P 500 high on March 3 at 3136.39)
This date was featured in my 2018 book mainly because it was the S&P 500's "solar return," i.e., when the Sun in the sky returns to its exact position when the index was launched. Just like our birthdays, this day promised to be full of excitement and peak expression. Interestingly, it also was Super Tuesday, when voters in 14 states went to the polls to weigh in on their favorite to become the Democratic and Republican presidential nominees for this fall's election.
The S&P had bottomed two days earlier, on Friday, Feb. 28, at 2855.84 on the Federal Reserve's late-day announcement that it would "act as appropriate to support the economy" during the coronavirus outbreak. Two trading days later, the S&P 500 had erased 52% of its drop from the all-time high and rallied nearly 10% to the March 3 high, hitting that one as the Fed made a surprise announcement that it cut interest rates by 0.5%.
Wednesday, March 18, 2020—(S&P 500 low on March 18 at 2280.52; rally to 2453.01 on March 20)
This day, in which the S&P 500 was down 32.1% from its all-time highs just a month earlier, capped off a week straight of head-spinning news regarding the coronavirus, efforts to restrain its spread and efforts to stimulate an economy besieged by shutdowns.
March 11—World Health Organization proclaims coronavirus a pandemic; U.S. announces travel ban to United States from continental Europe that evening. NBA suspends basketball season.
March 12—Stock market circuit breaker hit at the open. New York bans gathering of more than 500. The NHL and MLB suspend their seasons. NCAA cancels March Madness. Fed announces $1.5 trillion in new liquidity. S&P 500 down 9.51%, largest one-day move since 1987 crash.
March 13—U.S. announces a national emergency.
March 16—Fed cuts interest rates on Sunday, March 15 by a full percentage point. S&P 500 down 11.98%, trailing only Oct. 19, 1987 (-20.47%) and Oct. 28, 1929 (-12.34%).
March 17—U.S. announces plans for $1 trillion stimulus package.
March 18—Congress passes coronavirus-relief bill; NYSE to temporarily close trading floor beginning March 23 and move to all-electronic trading.
Astrologically, five of the 10 planets were in Capricorn (Moon, Mars, Jupiter, Saturn, Pluto) and putting intense pressure on the S&P 500's natal horoscope Mars in a culminating way.
April-May 2020
As of the futures market open on Sunday, March 22, the March 18 low has been taken out. My next date to watch for a low is Friday, April 3, when both Mars and Saturn in the sky are opposite the position of Uranus in the S&P 500's natal horoscope.
I'm expecting a recovery rally into the second week of May, but then the S&P 500 looks to be under pressure until after the presidential election in November.