Optimistic Winter Solstice
By Susan Abbott Gidel
December 2, 2018
(All times Eastern)
This month's Top Red Letter Trading Day is Friday, December 21, the winter solstice. The market looks to be in an optimistic mood as trading wraps up before what is sure to be a slow, holiday trading week. The NYSE closes at 1 pm on Christmas Eve, Monday, December 24 and is closed on Christmas Day.
Optimism comes from the money planet, Venus in Scorpio, connecting to both Neptune in Pisces in the sky (exact at 12:11 pm) and the natal Sun of the S&P 500 index launch in 1957 in an easy, breezy way. Neptune rules debt, so this connection could represent being able to find easy solutions.
Bragging about accomplishments and how rosy things look will be abundant that day as well as talkative Mercury is aligned with expansive Jupiter in outspoken Sagittarius at 12:37 pm.
The winter solstice, one of W.D. Gann's most important days to look for a change of trend, occurs at 5:23 pm. (The S&P 500 made its all-time high of 2940.91 on Friday, September 21, just before the fall equinox on September 22.)
This month's dates of astrological note include:
Saturday, December 1 Mercury retrograde enters Scorpio
Sunday, December 2 Venus enters Scorpio
Thursday, December 6 Mercury direct in motion
Friday, December 7 New Moon in Sagittarius
Wednesday, December 12 Mercury enters Sagittarius
Friday, December 21 Sun enters Capricorn (winter solstice)
Saturday, December 22 Full Moon in Cancer
Monday, December 31 Mars enters Aries (ruler)
This month's dates for potential market trend changes include:
Crude Oil
Monday, December 3—High
Wednesday, December 19—High
Friday, December 21—High or Low
Gold
S&P 500
RED LETTER TRADING DAYS FOR DECEMBER 2018
-Monday, December 3—A Little Spark
The two planets most closely connected with the stock market and trading—Mercury and Venus—both moved into the sign of Scorpio over the weekend. Mercury, which rules trading and stock indexes, is already in a comprised position because it is retrograde; moving into Scorpio weakens it further. Venus, the money planet, is particularly weak in Scorpio. Together these two planets in Scorpio represent the potential for behind-the-scenes discussions that could be detrimental to the markets.
Adding to the pressure is that the Sun in outspoken Sagittarius makes a 90-degree angle to not-so-feisty Mars in Pisces on Sunday at 7:34 pm. So, certainly the big talk of positive trade negotiations between the U.S. and China could overwhelm the actual ability to pull them off.
The crude oil market could make a high on Monday, based on planetary positions at previous markets highs.
Monday's reports include:
Sunday 7:30 pm Japan PMI Manufacturing Index
Sunday 8:00 pm China PMI Manufacturing Index
4:30 am Great Britain CIPS/PMI Manufacturing Index
10:00 am US ISM Manufacturing Index
-Wednesday, December 5—Sickly
A sickly outlook for Wednesday, December 5 does not bode well for the stock market, which suffered significant losses on Tuesday as concerns rose about US/Chinese tariffs. Throughout the day Wednesday (when the NYSE and equity derivatives at CME Group are closed), the Sun is approaching an exact 90-degree aspect with Neptune at 5:22 pm. This aspect is one of tension and discontent between leaders and their vision.
Interestingly, S&P 500 futures and options on futures will be open for overnight trading on Globex at CME Group for two sessions between the NYSE close on Tuesday and re-open on Thursday (see below). So, further reaction to US/China trade tariff news will be expressed on Globex until Thursday's NYSE open at 9:30 am.
NYSE Closed, Globex Overnight Hours
The New York Stock Exchange will be closed on Wednesday, December 5 in honor of the late President George H.W. Bush. Trading in equity and interest rate derivatives at CME Group will open as usual on Tuesday at 6 pm for trade date December 5, but close at 9:30 am Wednesday in alignment with the NYSE. Globex trading opens again at 6 pm Wednesday for trade date December 6.
Wednesday's reports include:
Tuesday 7:30 pm Japan PMI Composite
Tuesday 7:30 pm Australia GDP
Tuesday 8:00 pm China General Services PMI
4:00 am Eurozone PMI Composite
5:00 am Eurozone Retail Sales
10:00 am Canada Bank of Canada announcement
10:30 am US EIA Petroleum Report
+Friday, December 7—New, Deceptive Plans
Friday, December 7 is jam-packed with astrological shifts that mark a new jumping-off point into year-end news and market action.
First, Mercury turned direct in motion on Thursday at 4:22 pm, so communications, technology and travel snafus will come to the end of their prevalence since November 16. However, Mercury remains in Scorpio, where discussions remain secret and hidden from view.
Second, during overnight trading, the New Moon in Sagittarius occurs at 2:20 am. This new moon supports planting seeds of optimism around international agreements (like trade between the U.S. and China). The fruits of this new moon will be seen by the time of the winter solstice on December 21, at the time of the full moon.
Finally, at 9:11 am, action-taker Mars is exactly aligned with Neptune, which warns to be on the lookout for deceptive actions. Because this conjunction occurs on the New Moon and while Mercury is in Scorpio, the deception could be deeply hidden, yet come into full light in two weeks with the Full Moon.
Although not a Red Letter Trading Day, Monday, December 10 is one to watch for a low in the soybean market based on planetary patterns at previous market lows.
Friday's reports include:
8:30 am US Employment Situation
8:30 am Canada Labour Force Survey
-Thursday, December 13—No Sugar Coating
If you thought Oval Office meetings that include temper tantrums were over, think again. Mercury, the planet of communication, enters the not-very-tactful sign of Sagittarius at 6:43 pm Wednesday. Mercury stays in outspoken, freedom-loving Sagittarius through January 4, 2019, which covers the opening of the 116th Congress on January 3.
Thursday's reports include:
Wednesday 7:00 pm China Fixed Asset Investment
2:00 am Germany CPI
3:30 am Switzerland SNB Monetary Policy Assessment
7:45 am Eurozone ECB Announcement
8:30 am US Jobless Claims
+Monday, December 17—Stable Opportunities
Two astrological connections since Friday's close provide opportunities to make headway in establishing good relationships in business and government—and could help resolve a looming U.S. government shutdown at week's end.
First, Venus sextile Saturn on Sunday morning puts the focus on establishing stable business relationships. Second, Mars sextile Pluto at 1:57 am Monday clears the way to make forward progress in government standoffs. Both these aspects are fairly fleeting, but may leave tinges of influence as the Fed meets on Tuesday and Wednesday.
Based on planetary positions at previous stock market lows, the S&P 500 could find a low in Monday's trade. Similarly, crude oil could make a high on Wednesday.
There are no significant reports on Monday.
+Thursday, December 20—Think Outside the Box
It's time to do something new and unexpected on Thursday, December 20. The Sun in Sagittarius (forward-thinking leaders) makes an easy trine aspect to Uranus in Aries (moving forward with the unexpected) at 11:22 am.
Wednesday's S&P 500 close of 2506.96 was just above the 2503-2505 end-of-cycle price conversions from the natal horoscope charts of the S&P 500 index and the big S&P 500 futures contract. This area marked the 2017 highs, and is one cycle lower than the 2865 area that briefly served as support from late August through early October. The next cycle lower is 2145, site of the 2015 highs.
Thursday's reports include:
Wednesday 4:45 pm New Zealand GDP
Wednesday 4:45 pm New Zealand Merchandise Trade
Wednesday 7:30 pm Australia Labour Force Survey
4:30 am Great Britain Retail Sales
7:00 am Great Britain Bank of England Announcement and Minutes
8:30 am US Jobless Claims
8:30 am US Philadelphia Fed Business Outlook Survey
+Friday, December 21—Things Looking Up
Friday, December 21 is this month's Top Red Letter Trading Day because it is the winter solstice, the day before a full moon, and has other pleasant planetary aspects in place. The winter solstice, when the Sun enters the sign of Capricorn, is a day when legendary trader W.D. Gann kept his eye open for a change of trend. On Friday, the solstice is exact at 5:23 pm.
During the trading session, Venus works with Neptune to find solutions to debt problems (or perhaps funding to prevent a partial government shutdown). Venus trine Neptune is exact at 12:11 pm.
Less than 30 minutes later, at 12:37 pm, Mercury and Jupiter hook up in the sign of Sagittarius. Expect to hear some bragging about accomplishments (perhaps about funding to prevent a partial government shutdown).
Based on previous planetary positions at significant highs and lows, look for a high in the gold market as well as a low in crude oil.
Friday's reports include:
Thursday 6:30 pm Japan CPI
8:30 am US Durable Goods Orders
8:30 am US GDP
8:30 am US Personal Income and Outlays
8:30 am Canada Monthly GDP
8:30 am Canada Retail Sales
12:00 pm US Cattle on Feed
12:00 pm US Cold Storage
12:00 pm US Hogs & Pigs
-Monday, December 24—Tough Going
The stars don't provide much relief from relentless pressure going into the Christmas holiday. Throughout the shortened trading day, Mercury is approaching an exact square aspect (90 degrees apart) with Neptune, at 7:32 pm. This relationship indicates further dissolving of trading, as well as murky, foggy holiday travel.
Holiday Hours
NYSE closes at 1 pm on Monday, and reopens at 9:30 am on December 26. CME Globex equity futures and options close at 1:15 pm on Monday, and reopen at 6 pm on December 25.
No significant reports on Monday.
+Friday, December 28—Money Potential
Thursday's upside turnaround could continue on Friday, December 28 as money planet Venus moves toward an exact 60-degree connection with powerful Pluto at 4:31 pm. Thus, throughout the trading day, there is increased energy to capitalize on opportunities to generate cash.
FYI…2019 is set to start with a bang as go-getter Mars enters its ruling sign of Aries on New Year's Eve at 8:20 pm. Be careful out there as you ring in the new year!
Friday's reports include:
Thursday 6:30 pm Japan Unemployment Rate
Thursday 6:50 pm Japan Industrial Production
8:00 am Germany CPI
8:30 am US International Trade in Goods
November Review – Sun, Jupiter, Mercury Boost S&P 500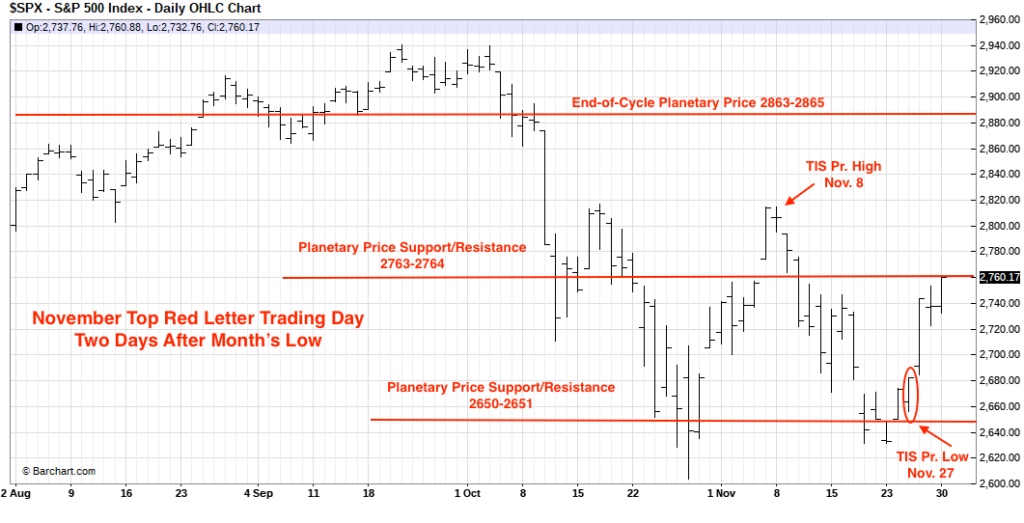 Source: Barchart.com
Tuesday, November 27 was the month's Top Red Letter Trading Day because the Sun, Jupiter and Mercury were at 04-05 Sagittarius, aligned with one of four major "angles" in the S&P horoscope from its launch in 1957. They also were at a 120-degree angle to the transiting Moon, at 03 Sagittarius, as well as in a 90-degree square to transiting Mars at 07 Pisces. These connections not only bring optimism to the market, but also are similar to planetary positions at other market lows, which is why I projected the date as a potential low in my book, "Trading In Sync With Commodities," earlier this year.
It's also interesting to note that the Sun, Jupiter and Mercury are aligned in early degrees of Sagittarius just once a century. The last time they were here was in 1935, when the stock market was rising from its Great Depression low in 1932.
The 04 Sagittarius degree area is curiously aligned with eight other financial horoscope charts, including the natal Moon of the Dow Jones Industrial Average from 1896 as well as other important planets/points in the horoscope charts of both S&P 500 futures contracts, the options on futures contract, the Vanguard 500 mutual fund, the SEC, the NYSE constitution and the United States.
November 8 Projected High
Also of note in November price action is that the S&P 500 made a double top the day before Jupiter made its annual sign change, this year into Sagittarius, before the market opened on Thursday, November 8. This date, too, was a projected high in my book, "Trading In Sync With Commodities," earlier this year, because of its connection to the natal S&P 500 horoscope chart and previous planetary transits at market highs.
Planetary Price Support/Resistance
One of the ways to use astrology in trading is to convert the planetary positions in the market's natal horoscope into prices. I've marked three such areas on the chart above, each of which represents conversions from natal horoscopes for the S&P 500 cash index, S&P 500 futures, and E-mini S&P 500 futures.
The 2863-2865 level is the end of a cycle that includes conversion of the S&P 500 index Sun and the S&P 500 futures midheaven and Venus. The next cycle lower is 2505, site of the 2017 highs; the next cycle higher is 3225. Other end-of-cycle price conversions have marked the 2015 highs (2143-2145), the 2015-206 highs (1783-1785), the 1999 highs (1423-1425), and the 1987 highs (343-345).
At 1,000 points lower, the 2763-2763 level represents price conversion from each of the three markets. The most recent support area, 2650-2651, represents the price conversion from points on the S&P 500 index and E-mini S&P 500 futures natal horoscopes.
All information in this newsletter is merely the personal opinion of the author and not that of any other person, company or entity. This information is not to be construed as financial advice, nor relied upon as such. Please contact your broker or financial advisor for trading and investment advice. Past results are not necessarily indicative of future market behavior.
© Copyright 2018 SusanGSays LLC