The timing of New Zealand's first efforts to strengthen its gun laws and make the country safer indicate they will have worldwide impact.
Prime Minister Jacinda Ardern announced that an interim measure to reclassify a wider range of semi-automatic weapons and increase licensure requirements went into effect at 3 pm local time (Wellington). She expects amendments to the Arms Act to ban all military style semi-automatics and assault rifles in New Zealand will be introduced when Parliament convenes in the first week of April and passed shortly thereafter.
Full Moon Says "World Peace"
The announcement came just 18 minutes after a most significant Full Moon, at 00 Libra, directly opposite the spring equinox Sun at 00 Aries. Both planets were at zero degrees of Cardinal signs of the zodiac, which are considered "world points." Events, people and countries with horoscopes at or near these world points can have significant influence on world events.
On a mundane level, this full moon expressed the opportunity for leaders (Sun) to take action (Aries) to provide the people (Moon) with peace (Libra). Because the Sun and Moon were at world points, this Full Moon put the spotlight on world peace.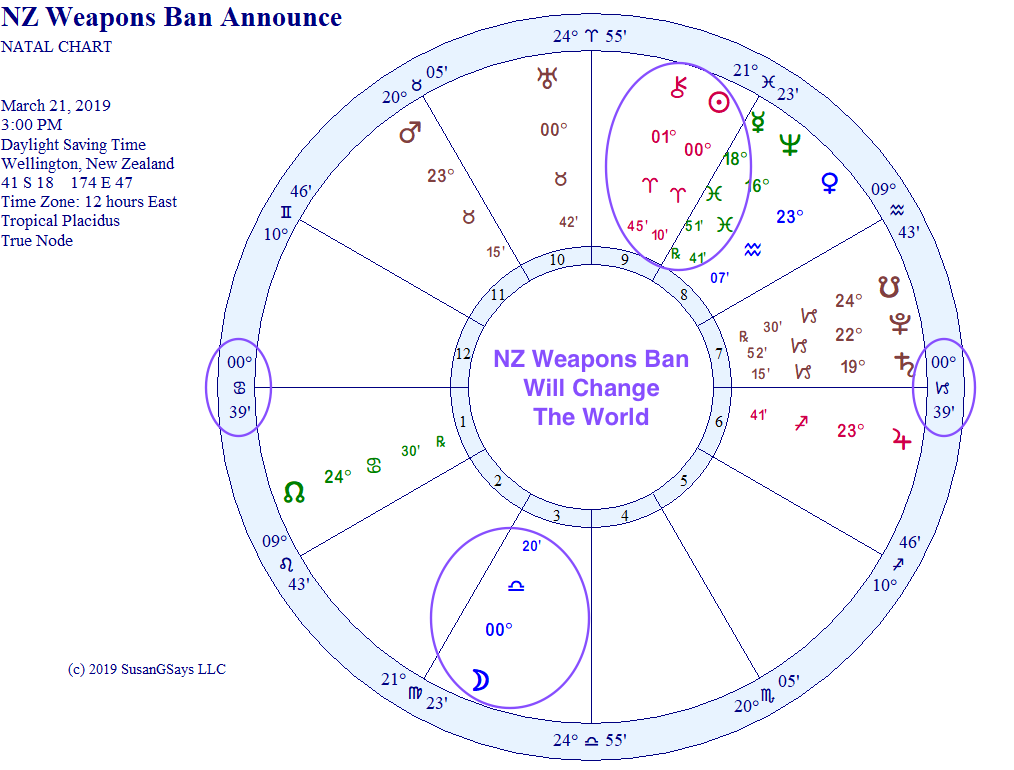 New Zealand's first efforts to change gun laws occurred with all four "world points" involved in the horoscope chart–available only within a three-minute window: The spring equinox at 00 Aries, the full moon at 00 Libra, ascendant at 00 Cancer and descendant at 00 Capricorn.
Three-Minute Window to the World
Stunningly, the messages of world peace and world impact were astrologically emphasized by selecting the 3 pm effective timing. At that minute, the other two world points—00 Cancer and 00 Capricorn—were on the horizon in Wellington.
With Cancer on the horoscope's ascendant, the message is that New Zealand's efforts will protect people worldwide; with Capricorn on the descendant, other countries also will recognize their responsibilities. To have 00 Cancer/Capricorn on the horizon at the same time as the Sun and Moon were at their world points was available only for three minutes—from 2:58 pm to 3:01 pm.