FEBRUARY CHILL
By Susan Abbott Gidel
(All times Eastern)
Although the polar vortex is receding as I write this from my home base in Chicago, the planetary chill lingers throughout February—with the exception of a red-hot connection mid-month that is our Top Red Letter Trading Day.
The chill comes from the change in signs by three planets that affect daily life—Mercury, Venus and Mars—that are challenging for these planets.
First up, Venus enters Capricorn on February 3. In this sign, money planet Venus has to live on a budget and be responsible for every penny spent. Paying off debt is a high priority, be it personal or a country's.
A week later, Mercury enters Pisces on February 10. Communicator Mercury in dreamy Pisces is good for playwrights and poets, but is an abrupt shift from the electric, brilliant ideas available to it when it was in the previous sign of Aquarius. Communications could easily be confused or deceptive with Mercury in this sign.
Finally, Mars enters Taurus on February 14, and immediately goes from running 60 mph to hitting quicksand. It leaves its ruling sign of Aries, where it easily can make things happen, and enters Taurus, which wants Mars to drag its feet and enjoy smelling the roses. Expect stall tactics and digging in of heels concerning plans to move forward.
Top Red Letter Trading Day
Wednesday, February 13 is this month's Top Red Letter Trading Day because it contains a most volatile energy that could express itself in ways that could translate into market volatility as well.
That day, at 4:21 am, Mars and Uranus are exactly aligned in the sign of Aries. Whenever these two planets are aligned, the potential for explosions and accidents exists. This time, they are aligned in the aggressive, no-holds-barred sign of Aries. What's more, Mars rules Aries, so is particularly strong in its abilities to move forward—or make war. Uranus is the planet that rules upheaval and out-of-the-blue change. In Aries, Uranus forces its way toward new ground as a revolutionary.
This month's dates of astrological note include:
Sunday, February 3 Venus enters Capricorn
Monday, February 4 New Moon in Aquarius
Sunday, February 10 Mercury enters Pisces
Thursday, February 14 Mars enters Taurus
Monday, February 18 Sun enters Pisces
Tuesday, February 19 Full Moon in Virgo
This month's dates for potential market trend changes include:
Euro FX
Soybeans
S&P 500
Tuesday, February 19 High
10-year T-note
RED LETTER TRADING DAYS FOR FEBRUARY 2019
-Friday, February 1—Building Tension
Tension builds throughout the day on Friday, February 1 as two planetary heavy-hitters square off. Mars and Pluto are exactly 90 degrees apart at 10:20 pm, but the tension between them builds throughout the trading day.
Mars and Pluto are the zodiac's tough-guy enforcers. Mars in its ruling sign of Aries thinks the best way to enforce is with a one-two punch. Pluto wants longer-term transformation in business and government and is willing to be more strategic. On Friday, these approaches are at odds.
Friday's reports include:
Thursday 6:30 pm Japan Unemployment Rate
Thursday 7:30 pm Japan PMI Manufacturing Index
Thursday 8:00 pm China PMI Manufacturing Index
12:00 am India PMI Manufacturing Index
4:30 am Great Britain CIPS/PMI Manufacturing Index
5:00 am Eurozone HICP flash
8:30 am US Employment Situation
10:00 am US ISM Manufacturing Index
-Monday, February 4—Tight Money
One minute before kickoff on the Big Game of the year, money planet Venus enters the sign of Capricorn and puts a big damper on the weekend's astrological connection generating easy love and money. (Venus in Capricorn at kickoff also could bestow love on the experienced team with the old guy at quarterback…)
Monday is halfway between the winter solstice and the spring equinox, so was considered a day for a change in trend by legendary trader W.D. Gann. Just after Monday's close, the Sun and Moon are aligned in Aquarius at 4:04 pm, which plants seeds for new, unusual ideas.
Based on planetary positions at previous trend changes, look for a potential high in the 10-year T-note market on Tuesday.
Monday's reports include:
Sunday 8:00 pm China General Services PMI
5:00 am Italy CPI
+Friday, February 8—New Ideas
After a day of disappointing news about international trade, the outlook could perk up on Friday, February 8 due to two Thursday night transits.
At 7:32 pm Thursday, the Sun and Jupiter connect in a way that provides opportunity to expand on new ideas from leaders and stimulate growth. About an hour later, at 8:24 pm, Mercury and Mars connect in order to provide opportunity for new actions and inventions.
Friday's reports include:
8:15 am Canada Housing Starts
8:30 am Canada Labour Force Survey
12:00 pm USDA Crop Production
-Monday, February 11—Lost in a Fog
Thoughts, ideas and communications are lost in a fog on Monday, February 11. That's because Mercury entered the sign of Pisces on Sunday morning. Mercury likes to be exacting, so dreamy Pisces is one of its least favorite placements. Mercury in Pisces is good for tapping into intuition and dreaming about the future, but it's not so good for focusing in on the details.
Monday's reports include:
2:30 am Switzerland CPI
4:30 am Great Britain Monthly GDP
-Wednesday, February 13—Guns Blazing
This month's Top Red Letter Trading Day, February 13, features a volatile connection between Mars and Uranus that could spell breakup or breakthrough on either Chinese trade or border wall issues.
Mars and Uranus are conjunct in the sign of Aries at 4:21 am on Wednesday. Whenever these two planets are aligned, opposite or square, fireworks and accidents are possibilities as Mars is the warrior instigator and Uranus is an explosive disrupter. In Aries, these tendencies are given free rein to explode with abandon. Both sides of the trade and border wall issues will have guns blazing under this planetary influence.
Wednesday's reports include:
4:30 am Great Britain CPI
5:00 am Eurozone Industrial Production
8:30 am US CPI
10:30 am US EIA Petroleum Status
-Thursday, February 14—Not Budging
Although the stock market appears optimistic that Wednesday's Mar/Uranus alignment spelled breakthrough, not breakup, in trade and border issues, there is another astrological event that could say otherwise.
On Thursday, February 14, action-taker Mars enters the sign of Taurus at 5:51 am, where it could decide to dig in its heels and not budge on either of the negotiations. Mars likes to move forward quickly, and Taurus likes to take its time and think it over. Mars remains in Taurus through March 31.
Money planet Venus is active over the long holiday weekend is it makes a connection with Neptune on Sunday that could highlight the idealistic, or indicate that money is vanishing.
On Monday morning, Venus gets serious as it aligns with Saturn in Capricorn. This is a strong connection that indicates that money could be tight for a long time, or that budget efforts are effective. Also on Monday morning, the Sun and Uranus show that progressive leaders have opportunity to push a new agenda.
Globex Holiday Hours
Although the NYSE and CME Group trading floors are closed on Monday for the Presidents' Day holiday, online futures trading in stock indexes, interest rates, metals and energies will open as usual on Sunday night and trade through 1 pm Monday. They reopen for Tuesday's trade date at 6 pm.
Thursday's reports include:
2:00 am Germany GDP Flash
5:00 am Eurozone GDP Flash
8:30 am US Jobless Claims
8:30 am US PPI-FD
-Tuesday, February 19—Fuzzy Accountability
It may take a bit to focus in again after the long holiday weekend. But, it's a good time to make forward progress with making a dream come true, or getting a grip on deception.
Fuzziness ensues on Monday at 6:04 pm when the Sun enters Pisces, the sign of dreamers. On Tuesday at 10:54 am, the Sun is exactly opposite the Moon, with the Full Moon in Virgo focused on practicality.
Meanwhile communicator Mercury is combining both dreams and practicality. It is aligned with Neptune in Pisces overnight, at 1:37 am, so pay attention to those dreams! On Tuesday night, at 9:39 pm, Mercury connects with Saturn so that dreams can get planned effectively. The Mercury/Neptune/Saturn connections also could be viewed as corralling words of deception.
Look for a high in the S&P 500, based on planetary positions at previous important highs.
Note that the Fed's minutes of its January 30 meeting will be released on Wednesday at 2 pm, just a day after the Full Moon. Thus, the minutes will further shed light on the Fed's decision leave rates unchanged and keep future increases on hold.
No significant reports on Tuesday.
-Friday, February 22—Money Transformation
During the trading day on Friday, February 22, two astrological transits are weighing on the markets as they build strength throughout the day. First, there is confusion about lofty goals as communicator Mercury (in foggy Pisces) is square to idealistic Jupiter, exact at 3:40 pm, going into the close.
Meanwhile a more significant connection between money planet Venus and government/business transformer Pluto is exact at 10:53 pm Friday. These two planets moving together in the sky indicate a combined effort to use funding to make big changes.
Next week, be on the lookout for a potential high in Euro FX on Monday and a low in soybeans on Tuesday, each based on planetary postions at previous significant turning points in those markets.
Friday's reports include:
Thursday 6:30 pm Japan CPI
4:00 am Germany Ifo Survey
8:30 am Canada Retail Sales
3:00 pm US Cattle on Feed
+Thursday, February 28—Moving Forward
After a big day of summits and testimonies, leaders have the opportunity to take action on Thursday, February 28. That's because the Sun (leaders) is just 60 degrees away from Mars (action), exact at 9:33 pm Wednesday. The Sun is in compassionate Pisces, while Mars is in aggressive Aries.
Thursday's reports include:
Wednesday 6:50 pm Japan Industrial Production
Wednesday 8:00 pm China CFLP Manufacturing PMI
Wednesday 8:30 pm Australia Private New Capital Expenditure & Expected Expenditure
1:00 am India PMI Manufacturing Index
4:30 am Great Britain CIPS/PMI Manufacturing Index
5:00 am Eurozone HICP Flash
8:30 am US Personal Income and Outlays
8:30 am Canada GDP
8:30 am Canada Monthly GDP
10:00 am US ISM Manufacturing Index
JANUARY REVIEW–NEW-YEAR OPTIMISM PEAKS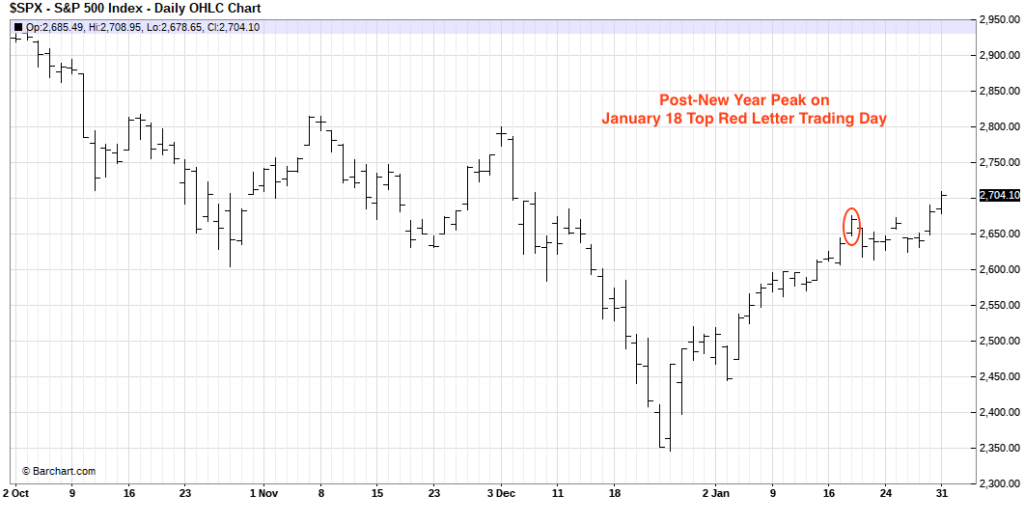 Source: Barchart.com
Friday, January 18 was the month's Top Red Letter Trading Day mainly because the full moon/lunar eclipse occurred in the wee hours of Monday, January 21, a trading holiday. Friday's trade, which lifted the S&P 500 to its highest level of the month, was buoyed by a news leak (as Mercury was conjunct Pluto and spilling secret beans) that the United States might lift tariffs on Chinese imports.
The long holiday weekend took its toll, however, as economic reports from China on Sunday night revealed the country's slowest growth in 28 years, just as Venus was square to Neptune, a sign of money disappearing.
Monday's full moon/lunar eclipse highlighted kings and rulers, and challenges to their plans. Through mid-week, US/Chinese tariff plans seemed to fall off the rails, and the US economy was projected to feel the hurt of the government shutdown, according to the Chairman of the White House Council of Economic Advisors. By week's end, the shutdown was over after a ground halt due to lack of air traffic controllers forced the issue, and derailed funding demands for a border wall.
All information in this newsletter is merely the personal opinion of the author and not that of any other person, company or entity. This information is not to be construed as financial advice, nor relied upon as such. Please contact your broker or financial advisor for trading and investment advice. Past results are not necessarily indicative of future market behavior.
© Copyright 2019 SusanGSays LLC