By Susan Abbott Gidel
Micro Bitcoin futures (ticker symbol MBT) and Lithium futures (ticker symbol LTH) launch on Sunday, May 2 at 5 pm (Central) at CME Group. Both contracts are very much tuned into the Air Economy that began in December 2020 and lasts for 199 years. The Air Economy values things related to the element of Air, such as technology, intellectual property and global community. The Micro Bitcoin contract size is 1/10 a bitcoin (a $6,000 contract value if bitcoin is trading at $60,000); the original bitcoin futures contract at CME has a contract value of 5 bitcoin, or $300,000 with bitcoin at $60,000. To learn more about Micro Bitcoin futures, please visit the CME website.
Lithium futures provide transparency into the market for lithium, used in lithium-ion batteries for electric vehicles. To learn more about lithium futures, please visit the CME website.
MBT and Bitcoin Have Good Synergy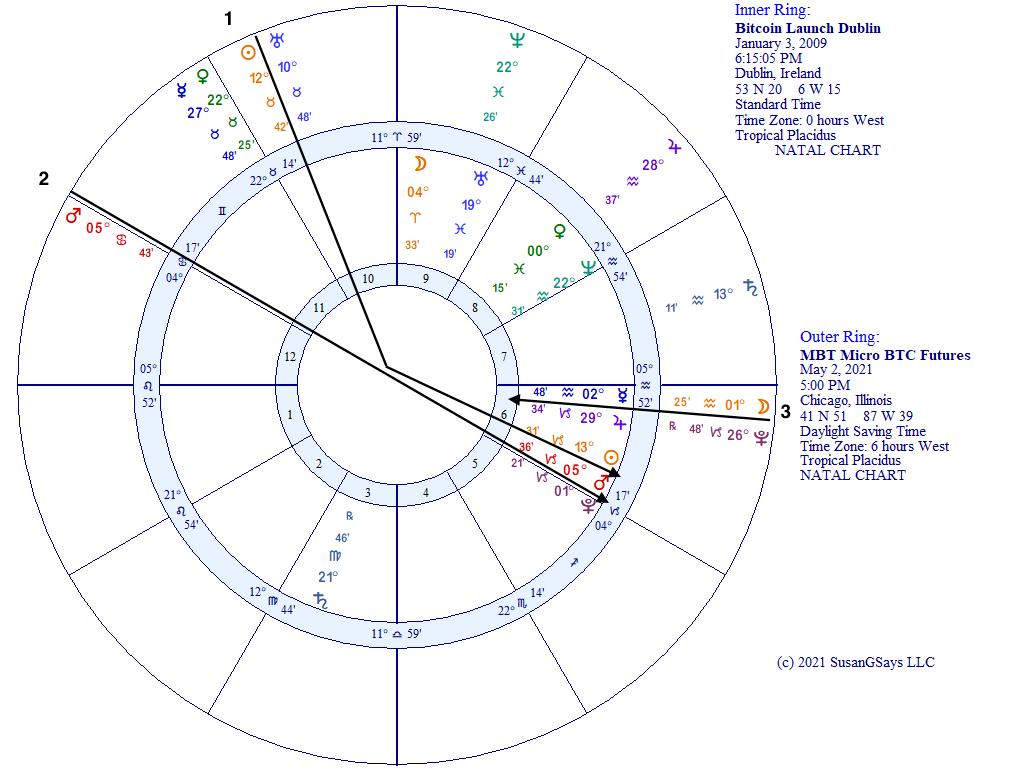 The Micro Bitcoin futures contract fits in nicely with the launch of bitcoin on January 3, 2009 on several counts from an astrological perspective (see chart above):
First, they are complementary in purpose because the two Suns are making an easy trine to one another.
Second, the new contract's Mars is exactly opposite the original's Mars, indicating a good time to take action relating to the original.
Finally, the micro contract's Moon is conjunct the original contract's Mercury, indicating that the contract provides an easy way for the public to trade.
Launch Horoscope Analysis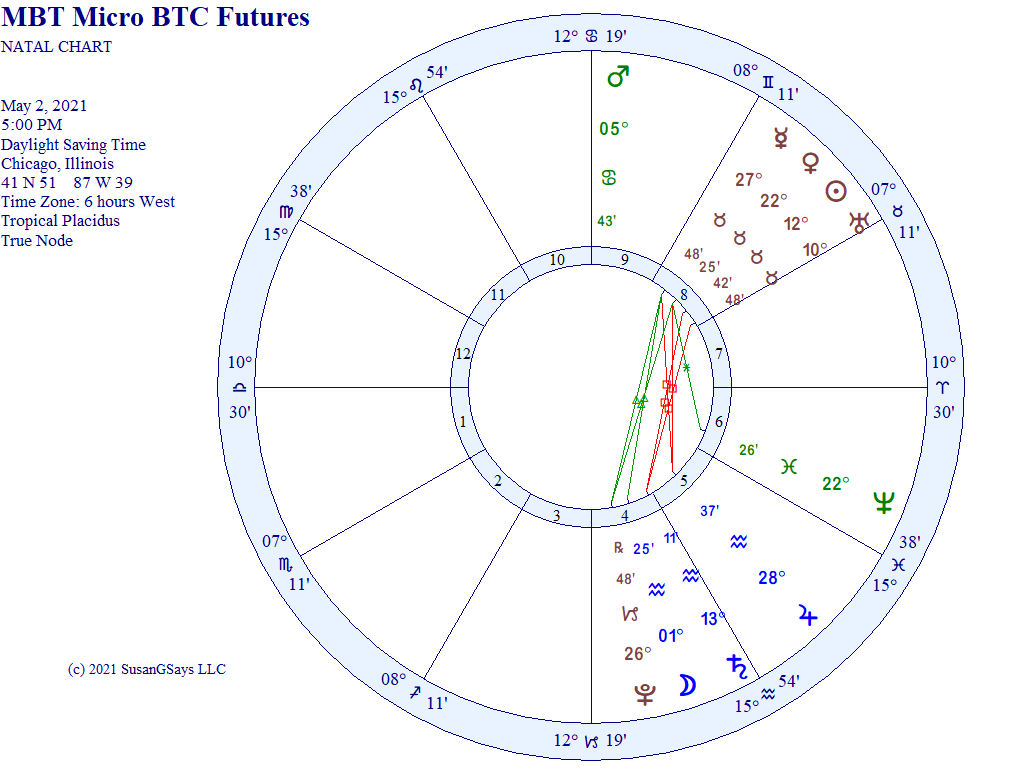 The Micro Bitcoin and Lithium futures contracts each have the same first-trade horoscope chart because they launch at the same time (see chart above). The first-trade chart has four planets in Taurus, including the Sun, representing stability. They also have three planets in the Air sign of Aquarius, the most interesting of which is Jupiter in the fifth house, indicating big speculative interest.
All the planets are on the right side of the chart (the Western hemisphere), indicating that the contracts need support from other markets to be successful. In MBT's case, that could be reaping rewards from success in the associated Bitcoin futures contract. For LTH, whose first-trade Sun is conjunct the natal Venus of crude oil futures, perhaps success takes monetary energy away from the contract representing fossil fuels.   
All information in this post is merely the personal opinion of the author and not that of any other person, company or entity. This information is not to be construed as financial advice, nor relied upon as such. Please contact your broker or financial advisor for trading and investment advice. Past results are not necessarily indicative of future market behavior.
© Copyright 2021 SusanGSays LLC